Supreme Champions
The Supreme Champion award was created in 1966 to honor the truly versatile American Quarter Horse. To earn the title of "Supreme" a horse must be a winning race horse, win grand champion in the halter class, and earn points in multiple performance events. Asking a race horse to compete at halter was quite a challenge, and then being asked to be a cutter, head and heel roper, reiner, or working cowhorse folks thought was near impossible.
GOLDSEEKER BARS
GOLDSEEKER BARS was one of the best known of the "Supremes". Born on the "Bud" Boschert ranch in St. Charles Missouri he was sent to the race track as a two year old, where he earned his AAA rating recording seven wins and ten seconds in twenty-four outs. Within two weeks of his last race he won Grand Champion at halter at the big Kansas City show. He went on to earn performance points in cutting, and western pleasure. He was known for his great disposition and athletic ability. He is also the only Supreme Champion to sire a Supreme Champion. His son Goldseeker Bud.
LUCKS EASYFANTA BOY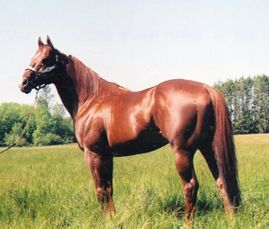 Fantaboy was bred by the Travis ranch in Oklahoma to be a race horse. Following a racing career where he posted AAA speed eight times at four different distances, he was taken to the halter ring where he earned Grand Champion awards fourteen times and reserve champion eleven times. He was then sent to the performance ring where he earned points in Dally Heading, Dally Heeling, Team penning, Working Cowhorse, and Reining. His get have excelled on the track, in barrel racing, halter and many arena events.